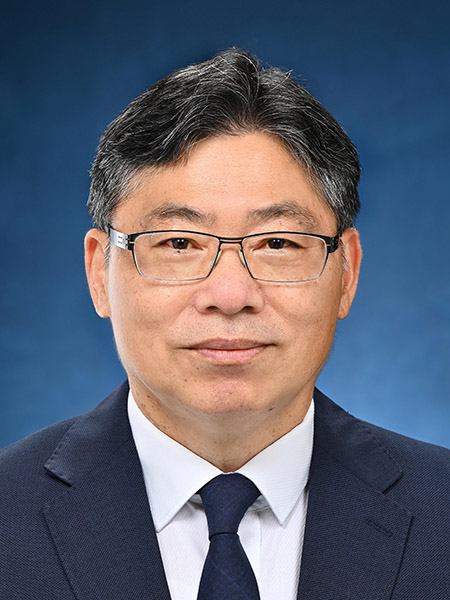 Mr. LAM Sai-hung, GBS, JP
Welcome to the Homepage of the Transport and Logistics Bureau of the Government of the Hong Kong Special Administrative Region.
The Transport and Logistics Bureau has policy responsibility for Hong Kong's transportation and logistics development.
Our Bureau is responsible for the formulation of policies on matters relating to Hong Kong's internal and external transportation, including air services, land transport, maritime transport and logistics. These policies aim at enhancing and consolidating Hong Kong's status as an international transportation centre; an international aviation hub as well as a regional logistics hub.
On domestic transport, we will continue to use railways as the backbone of our public transport system and implement railway projects in an orderly and timely manner. At the same time, we will take forward various road infrastructure projects so as to meet the overall long-term development needs of Hong Kong. We are also committed to improving the quality of public transport services and encouraging the use of these services. Furthermore, we endeavour to promote "Smart Mobility", enhance road safety, and foster a pedestrian-friendly environment. We seek to further enhance our connectivity with the Mainland by building new and upgrading existing cross-boundary transport infrastructure.
In the area of air transport, we strive to maintain and enhance Hong Kong's status as an international and regional aviation hub, through expanding our air services network, partnering with the Airport Authority to transform the Hong Kong International Airport into an Airport City and promoting manpower training through its International Aviation Academy, promoting safety and efficiency in air transport, and enriching our aviation-related strengths by partnering with international bodies such as the International Civil Aviation Organization and the International Air Transport Association.
As for maritime development, we will continue to proactively develop and entrench Hong Kong's position as a high value-added maritime services centre and an important transshipment hub in the Asia Pacific region. We will continue to maintain our port's strengths of high efficiency, good connectivity and wide coverage, and promote wider application of digital technology in business processes and operations in the maritime and port industry.
Hong Kong has all along been a regional logistics hub in Asia underpinned by our strengths in aviation and maritime logistics. Apart from strengthening our position as an international aviation hub and maritime centre, we have been consolidating Hong Kong's role as a regional logistics hub through infrastructure upgrading and manpower training to enhance competitiveness of Hong Kong's logistics sector. We strive to develop high value‑added logistics services and encourage wider use of technology in the logistics industry to enhance efficiency and productivity, to further facilitate flow of logistics information and goods in the Guangdong-Hong Kong-Macao Greater Bay Area through improving multi-modal operation, to actively support the growth of the industry, as well as to increase manpower supply through professional training and promotion.
To fully seize the immense opportunities arising from the "Outline of the 14th Five-Year Plan for the National Economic and Social Development of the People's Republic of China and the Long-Range Objectives Through the Year 2035", the Belt and Road Initiative and the Greater Bay Area development, we strive to promote closer cooperation with the Mainland in aviation, maritime and logistics development, and achieve better integration into the national development so as to complement the advantages and achieve mutual benefits.
In this Homepage, you will find comprehensive information about our organisation, policy objectives and latest news on our activities. I hope you will find it useful and informative. Suggestions and comments are most welcome.
Enjoy surfing our Homepage.
Lam Sai-hung, GBS, JP
Secretary for Transport and Logistics